STEP 4:
Learn about the techniques used in investigative journalism
Interview someone in your family, Girl Scout troop, class, etc. on an issue (maybe the one you plan to research for step 5!) and practice techniques mentioned.
Read about a kid changemaker who created positive change with their words, and then someone who created negative change with their words. Create a Venn diagram of the two.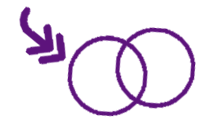 Create an alternative history timeline of how the world would have gone if one of the important investigations had not taken place. Have two people in your Girl Scout troop present pro and con arguments for a decision your troop needs to make. Take note of what they say, and write a mini-article to post to Rallyhood, or share it with your troop so your troop members can make an informed decision!
Sources from Maura Judkis, Washington Post